All Kinds of Stuff
If We Don't Have It, You Don't Need It!
We have: • Ideas that make you look COOL to your customers. • Stuff that won't be thrown away when the trade show is over. • Customer gifts that don't cost an arm and a leg. • +20 years of ideas and products that work for you. • Inexpensive gifts to get you past the gatekeeper. • Much, much more! Our showroom and office are located at 1231 Potomac Court, Wilmington, NC. Please call for an appointment. Member PPAI, CAAMP, SAGE and UPIC.
Featured Item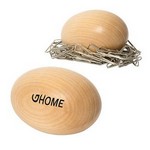 Magnetic Keep'em Egg
1.75" W x 2.5" H x 1.75" D - Maple Wood - Includes 50 paper clips that magnetically attach to the egg - When placed on your desk it looks like an egg sitting in a nest - A cute and whimsical promotion...
$8.00 - $12.28
What Our Customers Are Saying

Ann: I meant to send this earlier, but the pens are beautiful! Not sure how much you can tell from this pic, but they did a great job -- and they arrived in plenty of time for us to take to the tra...