All Kinds of Stuff
If We Don't Have It, You Don't Need It!
We have: • Ideas that make you look COOL to your customers. • Stuff that won't be thrown away when the trade show is over. • Customer gifts that don't cost an arm and a leg. • +20 years of ideas and products that work for you. • Inexpensive gifts to get you past the gatekeeper. • Much, much more! Our showroom and office are located at 1231 Potomac Court, Wilmington, NC. Please call for an appointment. Member PPAI, CAAMP, SAGE and UPIC.
Featured Item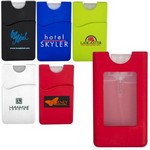 Silicone Wallet Sleeve with Sanitizer
PP Plastic credit card sized 0.67 (20 Ml) antibacterial hand sanitizer spray in removable silicone sleeve with pocket for credit cards, transit cards and business cards. Features light citrus scent. S...
$2.49 - $3.19
What Our Customers Are Saying

Ann is the best. Products are cool. Turnaround time is quick and dependable. Pricing is always very good. Thank you!
Kip Damrow
Interstate Hotels & Resorts
Mar 13, 2013