All Kinds of Stuff
If We Don't Have It, You Don't Need It!
We have: • Ideas that make you look COOL to your customers. • Stuff that won't be thrown away when the trade show is over. • Customer gifts that don't cost an arm and a leg. • +20 years of ideas and products that work for you. • Inexpensive gifts to get you past the gatekeeper. • Much, much more! Our showroom and office are located at 1231 Potomac Court, Wilmington, NC. Please call for an appointment. Member PPAI, CAAMP, SAGE and UPIC.
Featured Item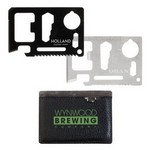 Grylls Survival Pocket Tool
This 11 function tool is the perfect gift for any occasion. Stainless steel construction and crammed with 11 tools into 1 credit card size that fits into any wallet. Includes a can opener, bottle open...
$2.30 - $3.40
What Our Customers Are Saying

"The artwork and quality of the items was better than expected." "Everything went off without a hitch."